Honoring the Dead Through CrossFit?
CrossFitters remember fallen heroes, one rep at a time
CrossFit doesn't pretend to be your typical workout. The wildly popular fitness program combines exercises from various disciplines to create a high-intensity, universal workout. In fact, it's meant to be training "not only for the unknown, but for the unknowable."
That much is fairly common knowledge by now. What few people know is that it's also a place to remember the dead, one rep at a time.
CrossFitters honor fallen American heroes—soldiers, firefighters and cops are frequent honorees—with Hero WOD's. WOD stands for "Workout of the Day" and is the workout posted daily on the CrossFit website and modified by thousands of Crossfit gyms who perform them across the country. 
The first Hero WOD was dedicated to Lieutenant Michael Murphy, one of three Navy SEALs ambushed and killed by the Taliban in 2005. Lt. Murphy was posthumously awarded the Congressional Medal of Honor for displaying bravery under fire. He was also, it turns out, a CrossFitter. His favorite workout was one he created himself (one-mile run, 100 pull-ups, 200 push-ups, 300 squats, one-mile run) that became known universally among CrossFitters as "Murph." It's now a tradition across the nation for CrossFitters to perform this Hero WOD on Memorial Day.
In Crossfit Journal, these Hero WOD's are described as brutal workouts intended to inflict pain and discomfort because you're alive and the honorees are dead. It's a humble reminder of how little your suffering is, and how lucky you are to be alive and, yes, performing an insane workout.
"While you complete the workout, think of them and ignore your pain, because you should be happy that you're able to experience any pain at all."
All Hero WOD's come with a brief obituary and are performed to honor not only the fallen, but also the loved ones they left behind, like this one:
"Michael"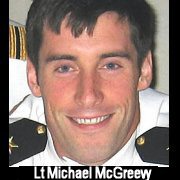 3 rounds 
Run 800 meters
50 Back Extensions
50 Sit-ups
In honor of Navy Lieutenant Michael McGreevy, 30, of Portville, NY, who was killed in Afghanistan June 28, 2005.